Training Programs
Aggressive Command Supports Aggressive Firefighting
Great firefighters deserve great commanders that effectively organize an incident and aggressively solve problems. This program eradicates impractical command that hinders the firefight, and gives you strategies to maximize your department's forces.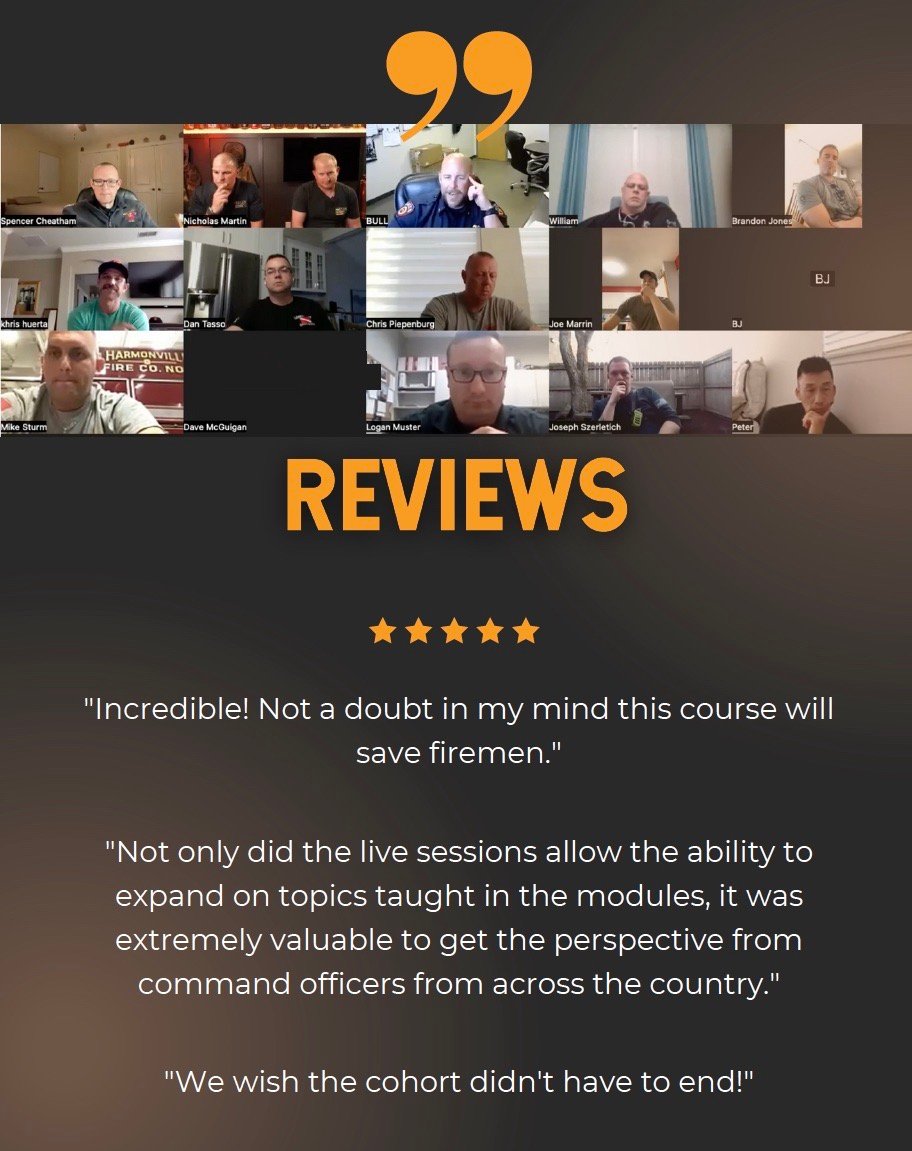 NEW Aggressive Command 10-Week Online Training Cohort
Starts November 27th - Sign Up Today - Seats Are Limited!
Join the next Aggressive Command Supports Aggressive Firefighting training cohort starting NOVEMBER 27th. This interactive cohort-style online training for incident command has been an extremely valuable experience for our students (and for us), so we are thrilled to be able to offer it again this winter to additional students who weren't able to be in the last one.
The Aggressive Command Supports Aggressive Firefighting program will give ICs a step-by-step process that is based on fireground proven, repeatable command practices and is delivered in a practical, engaging manner. Delivered over 10 weeks in a cohort-style online group training program, this is the ideal solution for departments and individuals with limited access to in-person training. It is as close to in-person as you can get while being able to access the training from anywhere.
Registration for the next cohort class is NOW OPEN so make sure to grab your spot before it fills. Click below to view the class schedule and learn more about what is included in this unique IC training program.
GREAT FIREFIGHTERS DESERVE GREAT COMMANDERS
Incident command systems are often overdone or underdone. Cumbersome command practices that allow the building to burn down while command is "setup" are just as frustrating and problematic as the lack of strong direction and organization.
Departments must avoid impractical command that slows or hampers putting the fire out, but must also avoid a lack of strong command that fails to organize the incident and aggressively deploy crews to solve the problem.
We'll cover best practices incident commanders can use to maximize the capabilities of their firefighting forces.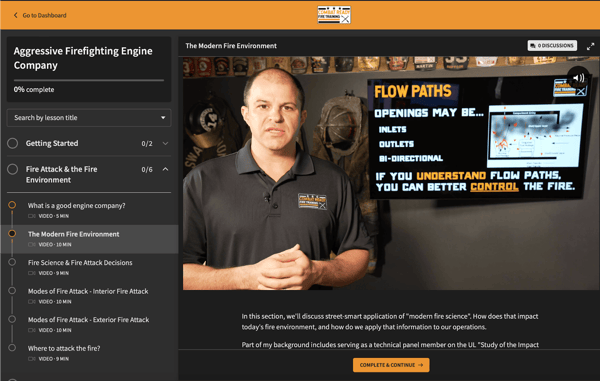 Aggressive Firefighting Commanders
Combat Ready Fire Training instructors use decades of successes and failures at incidents to provide a methodical process that current and future incident commanders can use to manage incidents properly and aggressively.
Topics will be discussed with the goal of sharing actionable knowledge, processes, and systems that can be immediately applied to improve the practicality and success of your command system.
The Aggressive Command Supports Aggressive Firefighting seminar is also available as a 4 or 8-hour online course which may be taken on it's own, or in advance of our instructors arrival to maximize hands-on command simulations training time for your members.
Aggressive Command Supports Aggressive Firefighting
Is available in the following training formats
Why Choose Online Training?
Breaks down command into easily understood objectives to improve ability and confidence in running command in manner that supports rapid, offensive action. Program is designed for offensive fires but allows you to scale down for smaller fires or ramp up for that large, defensive fire.
As a new Lieutenant who this gives a solid understanding of the job of my Captains, and Deputy Chiefs, and the overall mission two layers above my head.
Needed exactly this! Recently promoted to a Battalion Chief corps of 31+ year BC's. Old habits in this job die hard, as you know. So, being the 'new kid' coming in, obtaining information & mentorship has been difficult. This course help to fill that gap & was perfect for shoring me up in the areas that I know I am weak in. The same areas that many couldn't mentor me on simply because they just don't know. It was very reassuring to hear someone talk & think in the same way, with the same mindset, that I do about many things to include how Aggressive Command truly does support Aggressive Firefighting. Thank you for this! I need info on the full course.
Thorough, well conducted, professional presentation, and most importantly easy to understand and grasp. 5 stars from this student.
Fantastic and passionate presentation, Chief! Thank you!
Great command common sense approach. Well thought out ideas that are easily grasped by the student.
Thank you for offering this in an online format! Very enjoyable and useful.
Great program, I always walk away from your classes gaining knowledge and having some great conversations about tactics at our firehouse. Thanks for a great course!